This fall KYIV MEDIA WEEK, with the support of the United States Agency for International Development (USAID), successfully held six special events in cooperation with three European industrial forums. KYIV MEDIA WEEK 2022 Travel Edition started at the Serial Killer International Festival of Web and TV Series (September 20-25, Brno, Czech Republic). The midpoint of the Forum was at the MIA | International Audiovisual Market (October 11-15, Rome, Italy). KMW 2022 completed its journey at Europe's largest content market – the 38th International Co-Production and Entertainment Content Market MIPCOM (October 17-20, Cannes, France). Being partners with KMW, MBR presents a special project – KYIV MEDIA WEEK 2022 REVIEW – a brief squeeze of the key events of this year's KMW.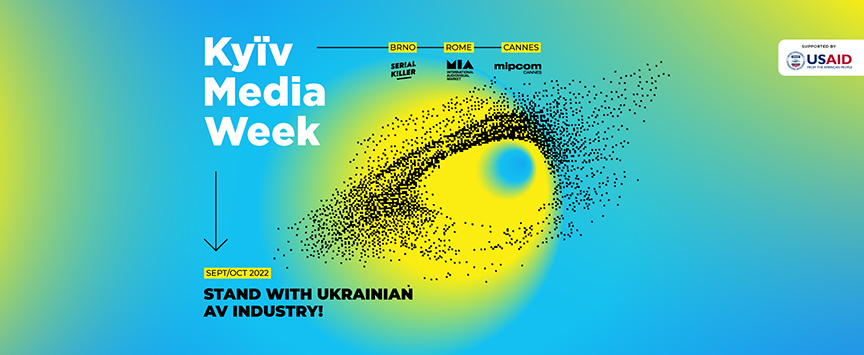 "When is the time to start storytelling about the war in Ukraine? I believe that the time is now," - clearly and unequivocally said Dr. Andreas Bareiss, EVP Business Affairs & Operations, Head of Berlin Office, Gaumont (Germany) during the Stand-Up and Coproduce. The Ukrainian Experience KMW panel discussion that took place within the official conference program of the MIPCOM content market in Cannes. And these words are already backed up with action. Gaumont (the oldest studio in the world, which has been continuously working for 130 years) recently entered into a co-production partnership with a Ukrainian company Starlight Media in working on a game series directly related to the events of the full-scale war.
Learn more about this and other similar cases in our outline of the discussion where Dr. Andreas Bareiss was joined by Viсtoria Yarmoshchuk, CEO of FILM.UA Group (Ukraine), Dmytro Troitskiy, Director of Television at Starlight Media (Ukraine); Rodrigo Herrera Ibarguengoytia, VP Scripted Acquisitions & Co-Productions at Red Arrow Studios International (Germany), Roman Lukin, Creative Producer at TET TV Channel (Ukraine), and Anna-Maria Meurman, Executive Producer at Yellow Film & TV (Finland). David Ciaramella, Communications Manager at K7 Media (UK), moderated the discussion.
First of all, at the request of David Chiaramella, Roman Lukin told the audience what the Ukrainian market was like before February 24 of this year. "These figures demonstrate how developed and competitive our market was before the war. Internally, there was high organic competition, which pushed us forward and stimulated continuous development."
"The current crisis of such scale and intensity is an extraordinary challenge. But the Ukrainian industry has accepted it and is meeting it well," – continued Dmytro Troitskiy, citing data confirming his words.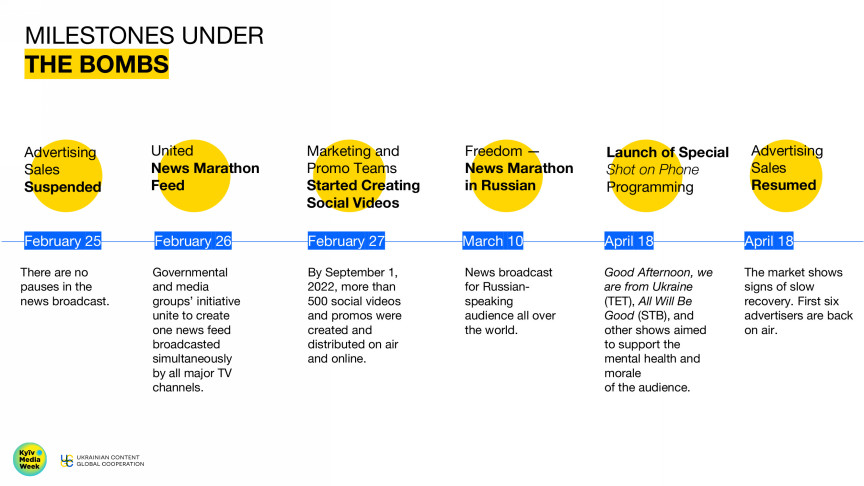 Dmytro emphasized that since the beginning of the full-scale invasion of russia, the broadcast of Ukrainian national TV channels, which united their efforts in the production of an unprecedented news telethon, has not been interrupted even for a moment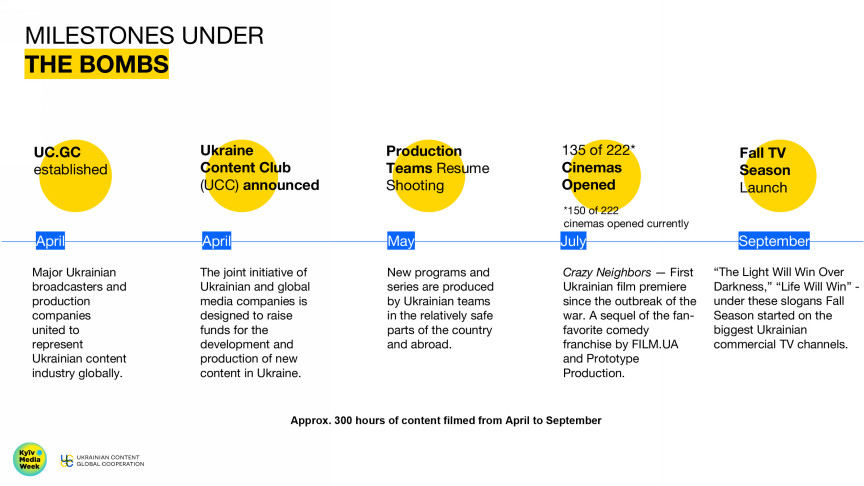 Also, the top manager of Starlight Media emphasized that content production resumed in Ukraine at the beginning of April. Last spring, the country's largest media groups created the Ukrainian Content. Global Cooperation initiative aiming to comprehensively support the industry and promote its recovery as soon as possible.
Victoria Yarmoshchuk continued Troitskiy's thesis regarding the unification of Ukrainian industry: "Shortly after the beginning of the full-scale war, we realized that we are no longer competitors – now we are partners. We need to pool our strength and resources to get through this difficult period. During the last six months, we, the participants of the initiative, have been representing Ukraine at the most influential international festivals, markets, and other events. We are talking about the best current opportunities for cooperation with Ukraine. We are not asking for anything extraordinary, we simply want to convey the message that Ukraine is a competitive market, professional, rich in ideas, and one that, despite everything, still has the resources to make its contribution to international partnerships and collaborations. We are proud that KMW – the largest media forum in Eastern Europe – continues despite everything. We are extremely grateful to Serial Killer, MIA, and MIPCOM for allowing us to do so. Thanks to the help of these partners, we can share our experience with the world and bring leading international experience to Ukraine."
Victoria briefly described the activities of FILM.UA Group, noting that this year the company celebrates its twentieth anniversary on the market. "We are a media group that comprehensively does everything related to content production, distribution, and adaptation. Our strategy for all these years has been to retain as many rights as possible to the content we produce, so now we have a solid library of content. And this library made it possible to launch eight PayTV channels. We produce everything from design and advertising to powerful drama series, feature films, and animation. We also provide services to the local and international markets. During the last six months, we did not stop working. Some of our facilities were relocated to safer regions of Ukraine or abroad. As for production, in September, we finished shooting the Ukrainian part of the Ukrainian-Polish co-production – a full-length feature film. In October, together with our partners 1+1 media, we launched the production of the second season of the comedy series Crazy Neighbors. So, despite everything, we work according to the company's mission: our stories make the world a better place."
As a visual co-production case, which FILM.UA Group launched during the full-scale invasion, Yarmoshchuk cited the project Those Who Remain, in which Red Arrow became a partner. "When the Russians invaded Ukraine, they, first of all, marched on Kyiv. Then almost every second resident of the city – mostly women and children – left it. But many remained, and we are talking not about military personnel but civilians. Either because they could not leave for some reason or because they simply didn't want to. And from their stories, the idea of this anthology series was born: a drama, but sometimes also a comedy. Each 30-minute episode will tell a separate story. We have six great writers, our creative team works closely with them, and we are currently in active development. The idea is to show that Kyiv continued to live then and is continuing to do so now. And people continued to live, love, and create," said the CEO of FILM.UA Group.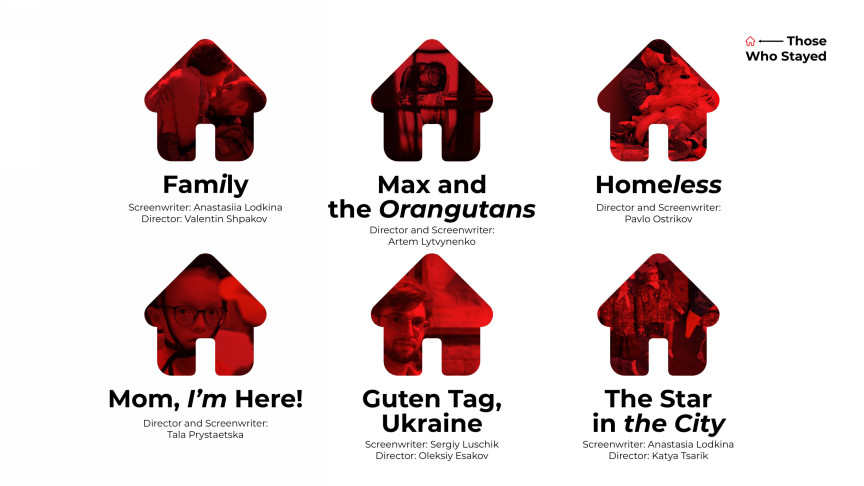 "We felt that the structure and tone of this project would fit perfectly into our catalog of titles," – Rodrigo Herrera Ibarguengoytia explained one of the aspects of why Red Arrow Studios International decided to join the project. He also added that one of the advantages of the project is that each episode has its own story, and this structure allows working with a larger creative team. Each of these creators brings their perspective and their own story. This gives a comprehensive view of the situation. "There is a lot of political discourse around the war, but it was important for us not to forget about individuals – specific people, their situations and circumstances. Therefore, the focus is on the personal life – relationships of the heroes with their families, children, parents, and friends; the relationships haven't gone anywhere and it was very important to us to focus on them. The creative team found many warm and life-affirming stories, these stories should be told to the whole world," Rodrigo summed up.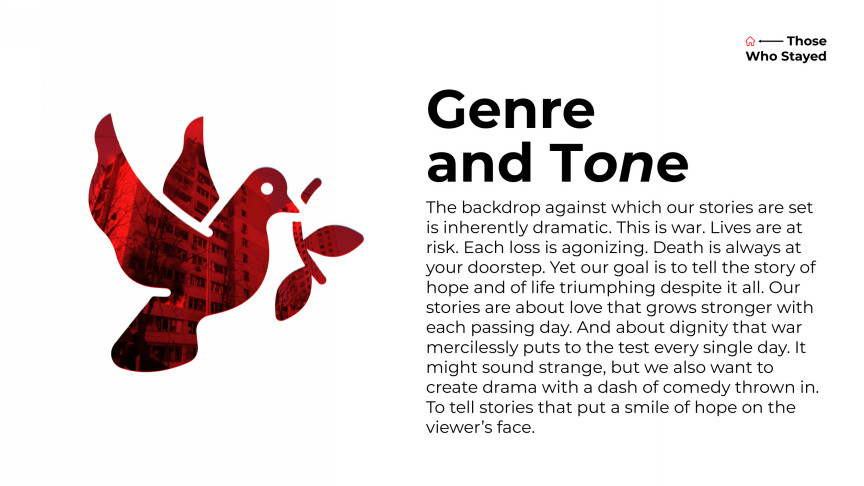 Then Dmytro Troitsky took the floor. He emphasized that for Starlight Media, one of the largest broadcasting and production companies in Ukraine, storytelling is the most important thing. "It has always been important, but in times of war, even more so," Dmytro said. He told about the project In Her Car based on the idea of screenwriter and showrunner Yevhen Tunik. The company started developing the project at the beginning of the war, and it already has an international partner.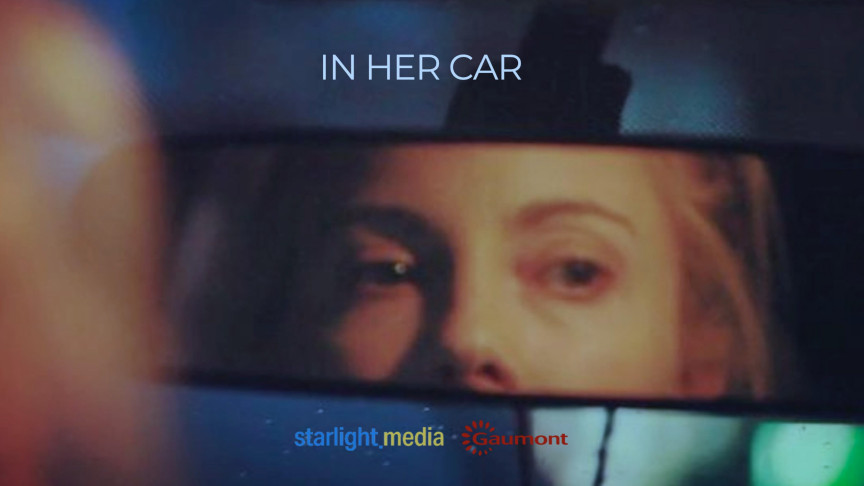 Since the beginning of the full-scale invasion, the company has been pondering the question of when it would be appropriate to start making not only documentaries but also game projects about the war. "History shows that usually, the best films about war appear years after its end. But when we saw Yevhen's proposal, we had no doubts about whether to take it up," the top manager emphasized.
According to Trotskiy, at the center of the story is a new social phenomenon that appeared in Ukraine. We are talking about people who, at the beginning of the full-scale invasion, became transporters – they started providing free driver services with their cars for those who had to migrate.
The main character of this story is a psychotherapist named Lydia, who suddenly becomes a transporter. In each episode, she takes new passengers and they share their life stories with her, also some events happen during these journeys.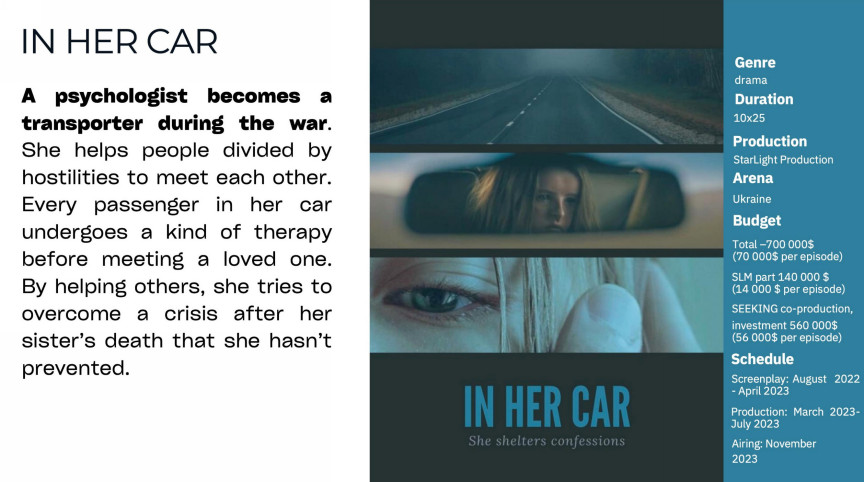 A certain reference to the project, as noted by Troitskiy, can be considered the HBO series In Treatment, which is also based on conversations with a psychotherapist – although under completely different circumstances
"We are happy to have found a partner who liked this project – the German representative office of Gaumont. We are currently taking care of development and looking for further financing," summed up the top manager of Starlight Media.
Dr. Andreas Bareiss explained what made Gaumont interested in the project: "Our company supported the Berlinale pitching. I was on the pitching jury and that's where I got to know this project. So why did we agree? First of all, Starlight Media is a top-class professional. And I wanted to work with them – that simple. As a businessman, I wanted a joint project with this company. The second reason is the personal level: the personality of the author of the idea. Yevhen is a powerful creator. His previous work – two seasons of the series Early Swallows – was a great success in Ukraine, and this is strong content. Yevhen knows how to make a powerful story that touches lives. The third level is the actual content and story as such. When I first read the bible of the project, I was very moved. You read and think: 'These people are just like me. I could be in their place.' These stories are not only about war: people share stories about adultery, about everyday problems familiar to everyone. And finally, the fourth reason is the global level – in our opinion, European support and cooperation should go not only at the level of governments but also at the level of the industry, at the level of each of us personally."
Then Roman Lukin took the floor, he talked about the current activities of the media group 1+1 media, which includes the TET TV channel.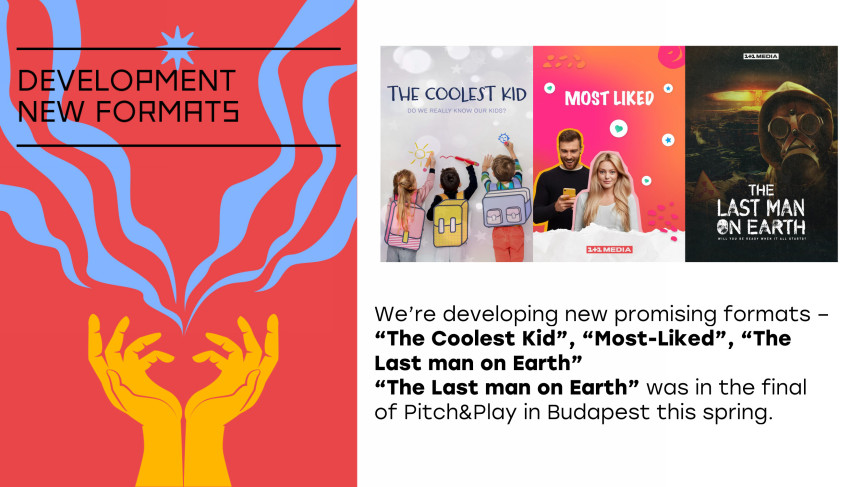 In particular, Lukin emphasized that, despite the war, the media group is actively developing new promising formats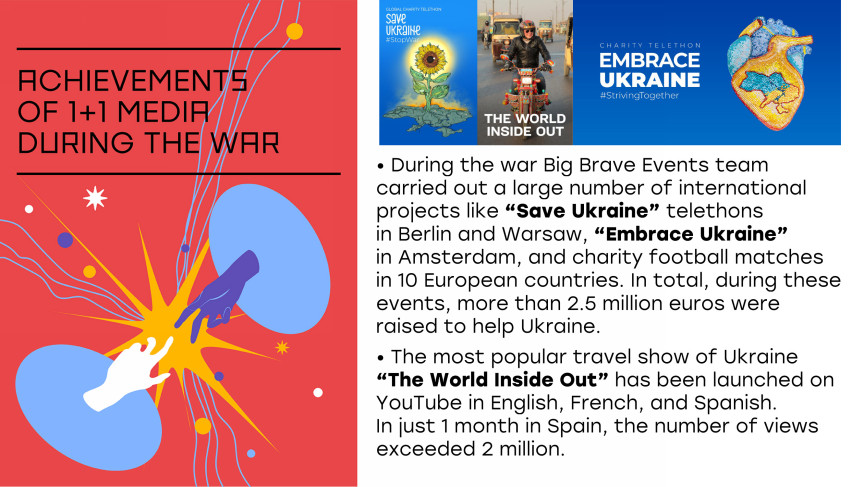 He also spoke about the group's charity projects in various countries, which helped raise more than 2.5 million euros for Ukraine
"International collaborations have become an important goal for our company," Roman emphasized. As an example of successful collaboration, he cited the case of a special episode of the super popular Finnish show Song of my life, created by 1+1 media together with Yellow Film & TV and FILM.UA Group. This is the first case of such TV production – Finns and Ukrainians jointly develop and shoot an entertainment show dedicated to Ukraine and its culture, which is shown in both countries.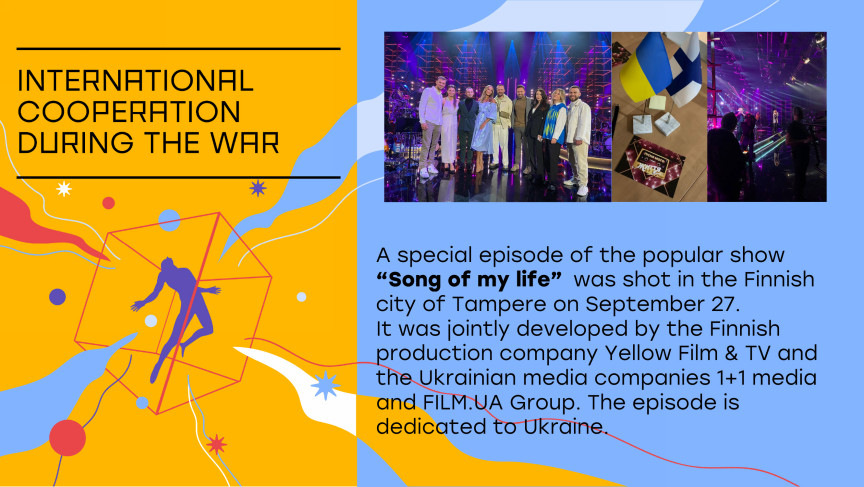 Anna-Maria Meurman told in detail how the idea of this co-production came about. "In June in Budapest at NATPE, we had a short meeting with Victoria Yarmoshchuk on other issues, and at the end of that meeting I asked her about the current state of the TV industry in Ukraine – is there anything shown or produced at all? Victoria said: 'Of course there is.' And then I remembered that we have a very cool format: 'I have a crazy idea. What if you get five stars from Ukraine, bring them to Finland in September, and we make a special episode of Song of My Life with them?' Colleagues started pulling me: 'No, no, you have no right to promise anything!' I said: 'Yes, I can't promise, but I can try.' So after the meeting, I called my boss and told her everything, and she said, 'I love crazy ideas! Let's make it.' We were producing our fourth season in parallel with this special episode, everything was very fast but very efficient. And by the way, any European country that wants to show this special episode of Song of My Life can do it for free – just contact me."
Roman Lukin emphasized that, although the production of such a large-scale project under martial law in Ukraine, complex logistics and time constraints turned out to be a real challenge, 1+1 media coped with it decently. "Our company and the entire Ukrainian market, in general, are thirsty for interesting work, for projects where we can show our creativity. It was a great opportunity to show the whole world that we are ready for co-production and can make creative contributions."
Summarizing the discussion, Dmytro Troitskiy emphasized: "We presented several completely different projects, which at the same time have something in common: all of them are supported by European producers, who very clearly articulate why they decided to do it." Rodrigo Herrera Ibargengoitia explained why other European producers should follow the example of Red Arrow, Gaumont, and Yellow Film & TV. "At the moment, this is the only way for Ukraine to produce projects – funding must come from the outside, from the international market. But it's not just support – it's business. Because such stories have great international potential."