This fall KYIV MEDIA WEEK, with the support of the United States Agency for International Development (USAID), successfully held six special events in cooperation with three European industrial forums. KYIV MEDIA WEEK 2022 Travel Edition started at the Serial Killer International Festival of Web and TV Series (September 20-25, Brno, Czech Republic). The midpoint of the Forum was at the MIA | International Audiovisual Market (October 11-15, Rome, Italy). KMW 2022 completed its journey at Europe's largest content market – the 38th International Co-Production and Entertainment Content Market MIPCOM (October 17-20, Cannes, France). Being partners with KMW, MBR presents a special project – KYIV MEDIA WEEK 2022 REVIEW – a brief squeeze of the key events of this year's KMW.

How does Ukrainian content production adapt and change due to the challenges of full-scale war? How do content creators adapt and change? What potentially interesting international projects are being created right now? These are the key questions discussed in Production during the War: Storytellers Never Stop! panel, which took place within the KYIV MEDIA WEEK session at the Serial Killer festival in Brno. Kateryna Vyshnevska, Head of Development and Co-Productions and Producer, FILM.UA Group, Anna Eliseeva, Producer, FILM.UA Group, and Dmytro Troitskiy, Director of Television, Starlight Media, took part in the discussion. They shared their experience of reflecting on the war and work during it. After all, they are one of those storytellers who did not stop when the full-scale invasion of Russia began and continued to work, no matter how difficult it was.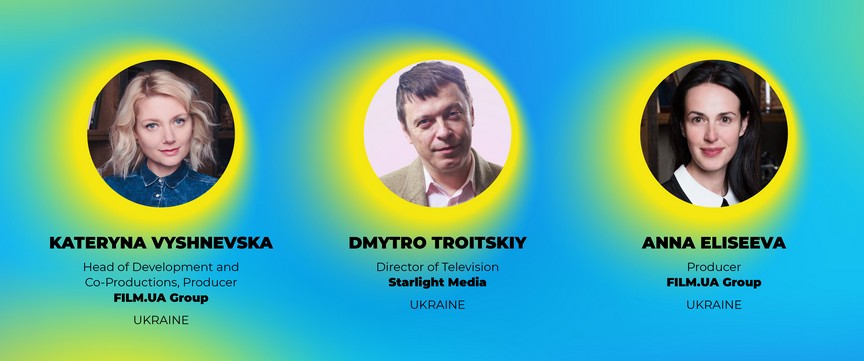 "War, as it is, is not a dramatic story, not an adventure, and not romantic heroism. It's scary. It smells of blood, death, depression, and violence. Because of the war, I left for Europe with my daughters, and in the last six months, I saw my husband only twice, and I did not see my parents, who remained in Ukraine at all. But no one asks us if we want to have the experience we are living in now. The only way to deal with it is to transform the pain into great stories – to tell people what we feel through films and series," – Anna Eliseeva said about what it's like to be a Ukrainian and a storyteller at the same time.
"Ukrainians are now living through historic times, through many-many stories that happen in real life and that are part of the real human experience for us. This gives us as storytellers the opportunity to talk about what really matters in this world and life," – Dmytro Troitskiy continued. Later he gave a simple and comprehensive explanation about how it is possible to produce content in Ukraine under the current conditions: "We simply have no other choice." Troitskiy emphasized the social mission of large media groups because Ukrainian viewers need content, and people in the industry need work. According to Dmytro, about 5-6 thousand people work in the content production industry in Kyiv alone. It is crucial that these people stay and do not leave the country, as the industry depends on talent. "That's why we resumed filming. About 200 hours of content were created from April to September, and we continue to produce it," he summarized.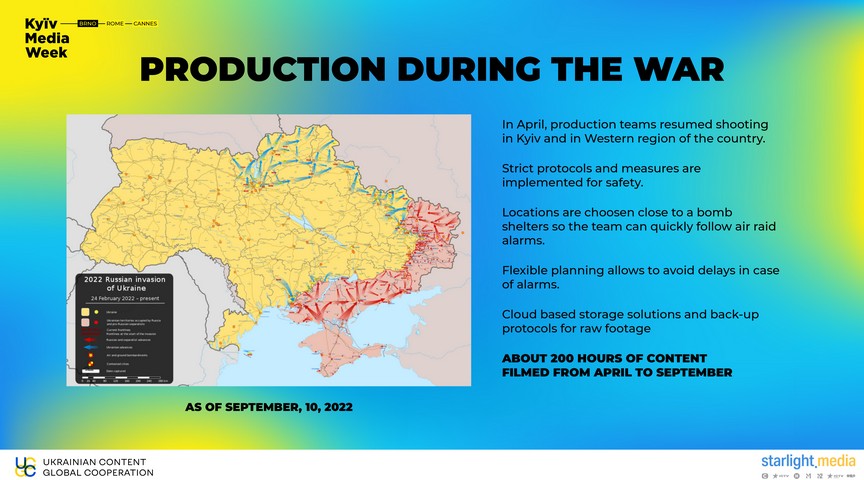 Please note that the map shows the situation as of September 10. Since then, the Armed Forces of Ukraine have liberated much more Ukrainian territories from the Russian occupiers.
Commenting on the above map, Troitskiy noted that the relatively safe regions of Ukraine are marked in yellow, separately emphasizing the word "relatively". However, he said that Ukrainian content makers have learned to work in constant "relativity". They have developed security protocols, chosen locations for filming near bomb shelters, etc.
Kateryna Vyshnevska developed the opinion, noting that the parallels between Ukraine and Israel are becoming increasingly clear. "The fact that Israel is a state that lives in a permanent state of challenges and has achieved a lot under such conditions gives us, Ukrainians, hope. I think that our experience of production during the war – despite limited resources and constant air alarms – is useful not only for us. We can work, and tell great stories despite anything."
Then the panelists turned to stories, presenting to the international audience several diverse Ukrainian projects that are currently being developed, despite the war.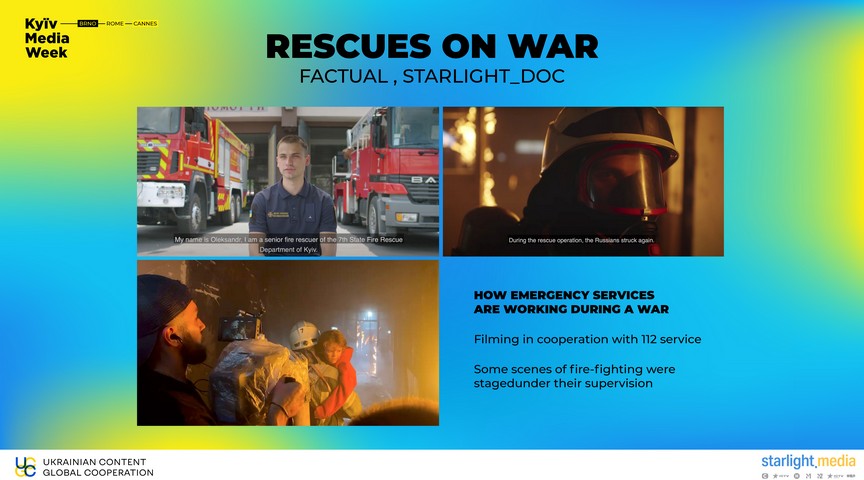 Presentation of new Starlight Media projects Dmytro Troitskiy began with the documentary series Rescues on War. It is a project about the heroic work of Ukrainian firefighters during the full-scale war, created in cooperation with 112 service. Thanks to this cooperation, all the nuances of firefighting and rescuing people under various conditions (including fires caused by bombings) were presented in the project as reliably as possible. Sometimes, for the sake of filming, it was necessary to simulate fires, which is quite ambiguous under the current conditions in Ukraine. But, as Troitskiy noted, "the firefighters were understanding and accommodating. They understood that what we do is important for history – everything that is happening now must be documented."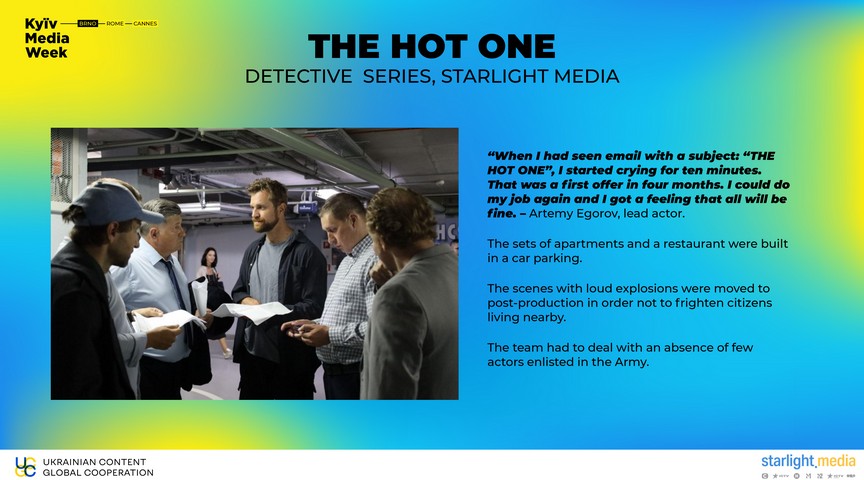 After that, Dmytro talked about the game detective series The Hot One, the shooting of which was stopped in February and resumed in the fifth month of the full-scale war. When production resumed, it became necessary to build new scenery in underground car parking to protect against aerial threats. In addition, the authors of the series had to adapt the script to new realities. For example, the scenes with loud explosions were moved to post-production in order not to frighten citizens living nearby. Also, some of the actors, who are now defending Ukraine in the army, had to be replaced, and the script had to be adjusted for these changes. "New challenges have made us, the producers, stronger and more flexible," – Troitskiy emphasized.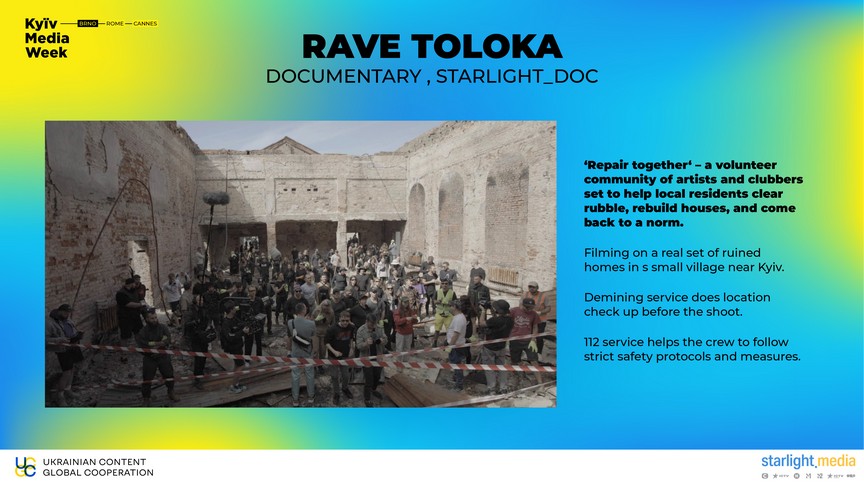 Dmytro also talked about the Rave Toloka documentary. This project is about young people, clubbers, and musicians who created a community of artists that helps residents of Ukrainian cities damaged by russia to dismantle rubble, rebuild houses and return to normal life. Before starting to film some scenes, a group of sappers had to check the area for the mines: "This is a new big part of the production process," summarized the top manager.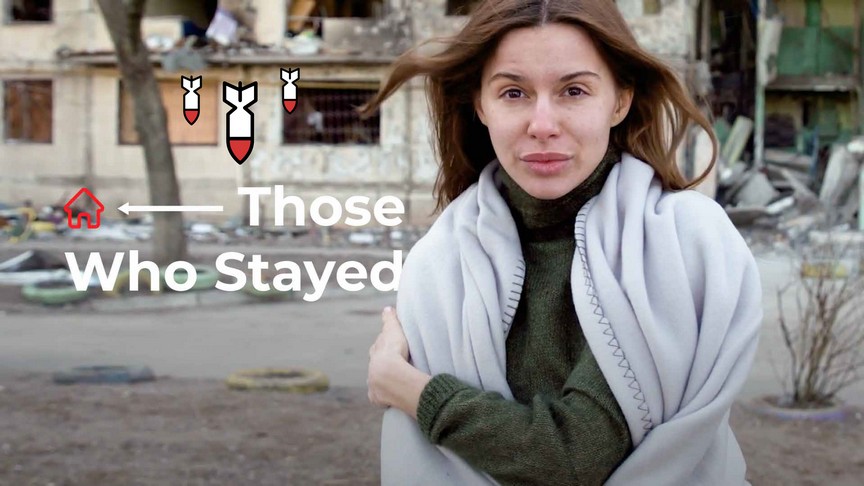 The presentation was completed by Anna Eliseeva, who talked about the FILM.UA anthology series Those Who Remain, which is currently in development with the partner support of the Red Arrow company. Each episode will be a unique vision of different directors telling the story of residents who did not evacuate Kyiv during the russians' attempts to seize the Ukrainian capital in February-March 2022. "These are stories of completely different people. It is important to note that the tone of the series is not so much about the war but primarily about relationships, love, values, children, and surviving this great crisis. This is a critical story because we want to answer why we, Ukrainians, are fighting and why Europe should help us," Eliseeva stressed.
Kateryna Vyshnevska emphasized that the case of Those Who Remain demonstrates how attractive Ukraine currently is from the co-production point of view. "This project is a kind of immersion in the existing reality. And the partners at Red Arrow Studios, who are currently primarily financing the project, understand that these stories need to be told because they will resonate with audiences around the world."
Eliseeva also said that in March and April all FILM.UA filming was stopped. The only project on which it was possible to continue working (even if from the bomb shelters) was the full-length animation Mavka (learn more about how it was made here). According to the producer, work on the project is almost finished, so in January or early spring, Europe and Ukraine will most likely be able to see this animated film in cinemas. Anna stressed that now Ukraine is not only producing content about war. As an example, she cited the comedy project Crazy Neighbors – a serial spinoff of the successful movie franchise Crazy Wedding.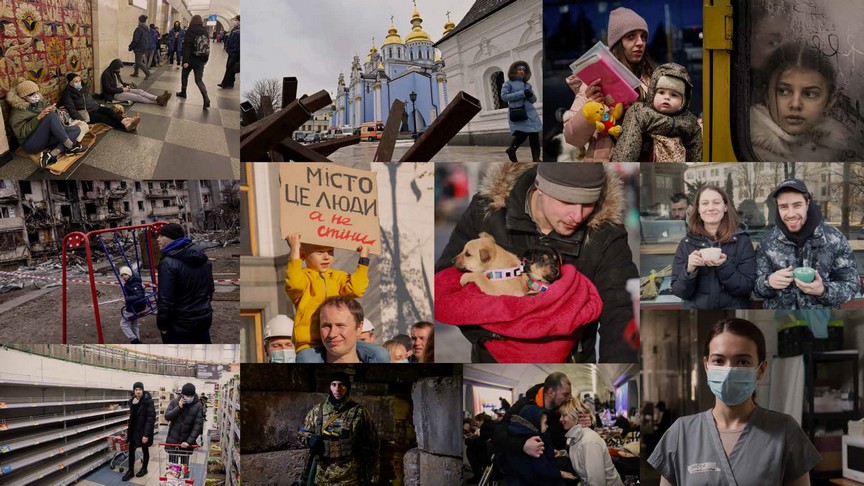 "We have to be flexible to create new products," the producer said. "Right now, when Ukraine is fighting for freedom, democracy, universal human values, and security in Europe, we see the potential for great stories. Stories to be told: of war, of love, of relationships, and other things common to all people in any country. Stories that have no borders."