This fall KYIV MEDIA WEEK, with the support of the United States Agency for International Development (USAID), successfully held six special events in cooperation with three European industrial forums. KYIV MEDIA WEEK 2022 Travel Edition started at the Serial Killer International Festival of Web and TV Series (September 20-25, Brno, Czech Republic). The midpoint of the Forum was at the MIA | International Audiovisual Market (October 11-15, Rome, Italy). KMW 2022 completed its journey at Europe's largest content market – the 38th International Co-Production and Entertainment Content Market MIPCOM (October 17-20, Cannes, France). Being partners with KMW, MBR presents a special project – KYIV MEDIA WEEK 2022 REVIEW – a brief squeeze of the key events of this year's KMW.

"What is our project about? I would say that this is a story about the ghosts of the past in the literal sense. About the fact that nothing passes without a trace, and there are always consequences. But to avoid instructive intonations, we wrapped our story in the romantic thriller genre," – said Olesya Lukyanenko, Creative producer at FILM.UA Group, during the presentation of the case study of the TV series A Girl from Tallinn, which took place within the KYIV MEDIA WEEK session at the Serial Killer festival in Brno.
This project is a co-production between Ukraine (FILM.UA Group) and Estonia (Zolba Productions), which began before the full-scale invasion. During the war, the project underwent certain transformations, but its creators do not think of stopping: instead, they are looking for an international distributor and new co-production partners. Read more about A Girl from Tallinn in our review of the presentation. In addition to Olesya Lukyanenko, it was also attended by Toomas Luhats, Board Member of Estonian Public Broadcasting, and Jevgeni Supin, CEO and Producer at Zolba Productions. Alla Prelovska, International Project Manager at Media Resources Management (KMW organizer), moderated the discussion.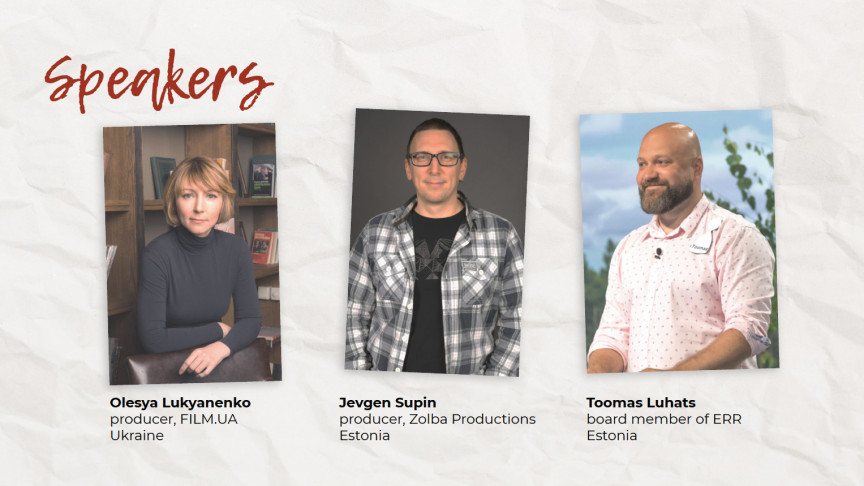 Olesya Lukyanenko opened the discussion; she was the first to thank her Czech colleagues from Serial Killer for their support. The producer said that after the start of the full-scale war, it was with their help that she managed to move from Kyiv to Prague with her mother and colleagues and resume work. It was the Serial Killer festival where Lukyanenko presented the Hide And Seek (2019) series – the first Ukrainian multi-part noir crime drama, which later had great international distribution success. And it was at Serial Killer last year that the A Girl from Tallinn project was announced.
Jevgeni Supin said that the desire to do a joint project with FILM.UA appeared long ago. But there was no concrete idea, and the search for it is an example of the fact that "when you want to cooperate, you will find something in common that you can develop together."
Lukyanenko explained how these searches continued: "Both countries – Estonia and Ukraine – lived under Soviet occupation within the USSR. And then, after the collapse of the Union, the turbulent 1990s began, and many criminal groups appeared during that time. I believe it was particularly unsettling in Estonia. A large flow of contraband passed through the country's seaports, and this attracted gangs from all post-Soviet republics, including Ukraine. And the murder rate was one of the highest in the world."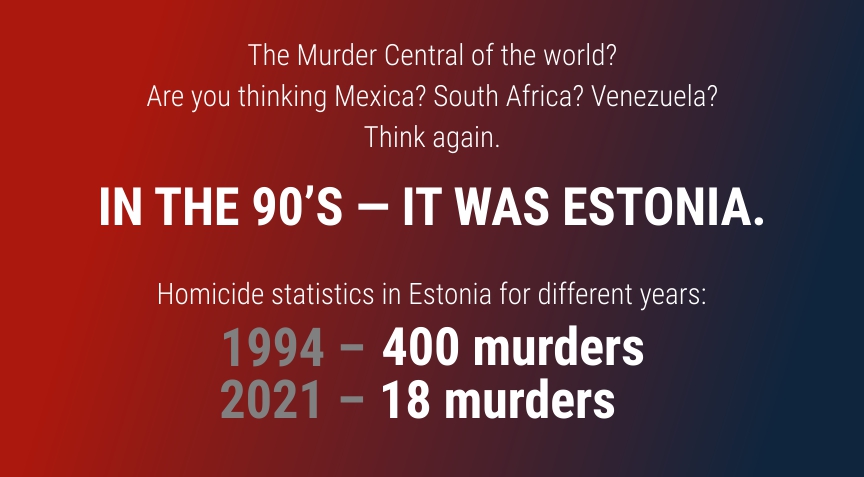 It turned out that Toomas Luhats was a crime journalist in those days, and almost every day, he made a new report from a new crime scene. Sometimes there were so many extraordinary events that instead of one reportage, several were published. "These were very turbulent times," he recalled. – "Being a student, I created a show called Police Week. To find out what happened where, we mainly listened to the police radio, which was a semi-legal activity. Usually, we were on the scene before the police, so we saw a lot of blood, many corpses... The scenario of A Girl from Tallinn seemed very interesting to me. And what was even more interesting was that this is a Ukrainian-Estonian co-production serial: it seems to be the first one."
So what exactly is the project about? A word from Olesya Lukyanenko: "The story begins with a young woman's body being found in the forest near Tallinn at the present time. Estonian police officer Anna Patterson arrives on the scene: a woman in her 40s with a drinking problem. Anna learns that the body remains have been lying in the ground for about 30 years; they belong to a young woman who was probably shot. As she begins her investigation, Anna is skeptical about the chances of finding the killer but wants to at least identify the girl. Anna recently lost her husband and, after his death, found out that he had an affair with a much younger woman, so this crime affects her on a very personal level.
At the same time, Ivan Palychuk is returning from a business meeting in Kyiv. Now Ivan works in an agency that collects classified information on politicians, but he was once a bandit. While Ivan is driving along the night road, his car suddenly stops for unknown reasons. He notices a female silhouette near the road. A mysterious girl approaches the car, opens the door, and sits in the passenger seat. Ivan is stunned – he does not understand what is happening. The girl kisses him. They have sensual sex, and then she disappears as if it never happened...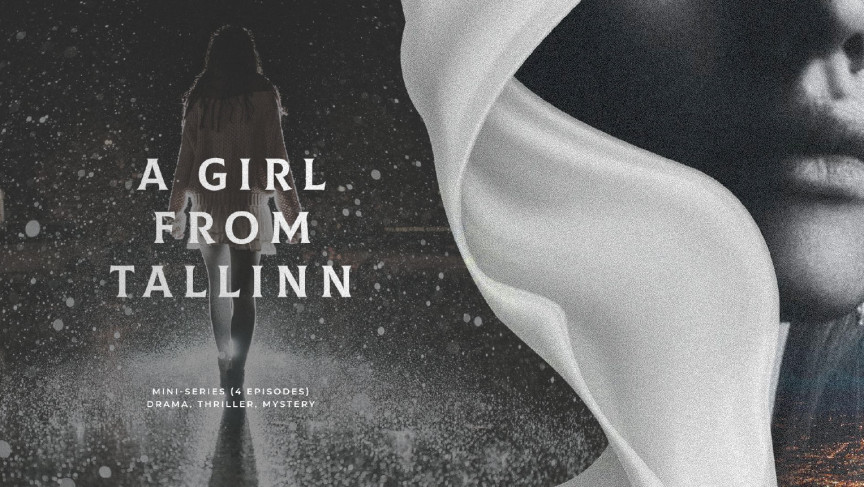 After that, Ivan begins to remember his youth. In the 1990s, he was a young athlete who knew how to shoot well; he came to Tallinn to work for a Ukrainian criminal authority. Ivan gained the trust of his new boss, who introduced him to his girlfriend from Tallinn, Maria. Ivan and Maria fell in love. And, of course, one day, the boss finds out about the betrayal... Maria was taken to the forest and shot in front of Ivan. It would seem that he should have been next, but the boss forgave him and spared his life. This is how Ivan remembers this story. But his memories are false..."
We will not reveal further details of the plot to avoid unnecessary spoilers. We will only note that A Girl from Tallinn is both a criminal and somewhat mystical four-part project. "It might sound like another ghost story, but it's not. This is a story about love and betrayal, emphasized Jevgeni Supin. – We have two characters: Ivan, who returns to his true memories, and Anna, who, thanks to this case, gets a chance to get rid of her own ghosts of the past and continue her life." Lukyanenko added: "This story is about fighting our traumas."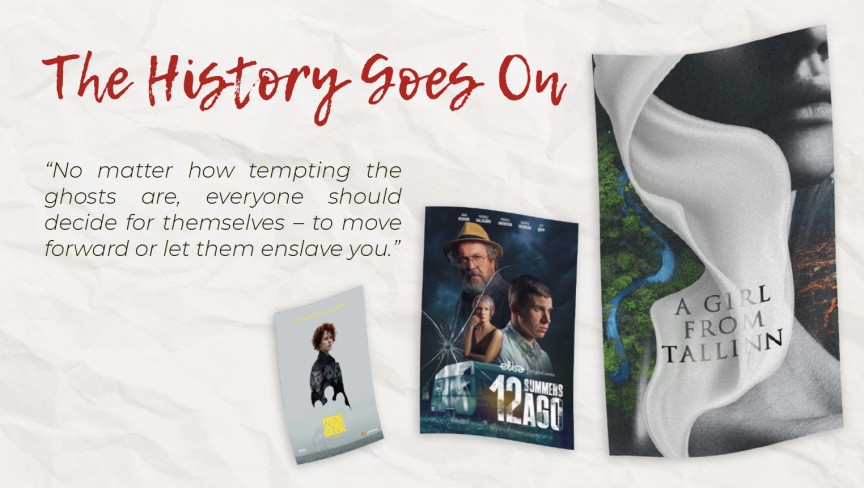 Olesya Lukyanenko is the creative producer of the project, and the producers are Kateryna Vyshnevska from Ukraine and Jevgeni Supin from Estonia.
A Girl from Tallinn was directed by Ilmar Raag – a well-known experienced Estonian film professional who shot both series and several co-produced feature films. Ilmar also worked for Estonian Public Television for a long time, and now he is on a humanitarian mission in Ukraine.
The creative team of the project also included Estonian screenwriter Birk Rohelend and Ukrainian screenwriter Alexey Sakhaltuev. According to Lukyanenko, the first version of the script is ready – it was written by Ukrainian screenwriters, and Estonian colleagues will join the work shortly.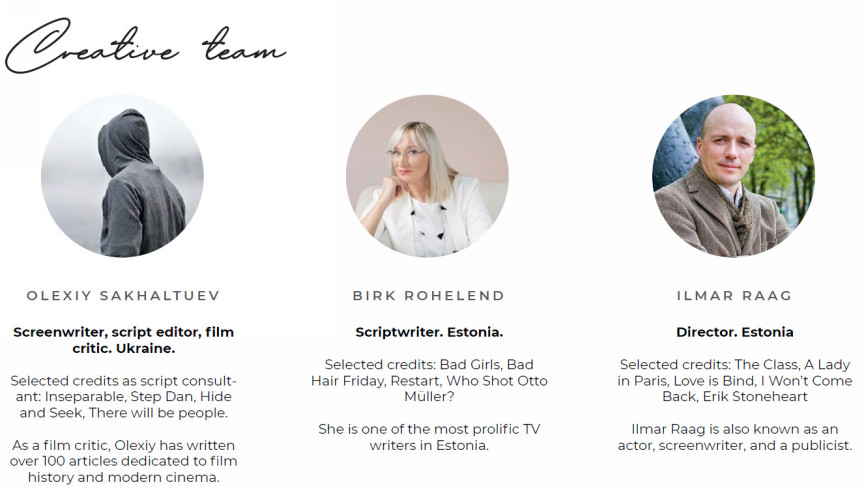 Thomas Luhats described the role of Estonian Public Television in this project: "Some time ago, our platform Jupiter (Estonian Public Television's VoD service. – MBR) decided to invest in drama series, as this direction has not yet received enough attention in Estonia, and we want to take it to a new level. So they started looking for good scripts. And A Girl from Tallinn became one of the two projects we decided to start with."
Entering the co-production even before the beginning of the full-scale invasion, the partners hoped to receive state support in Ukraine. "We were only a week away from applying to the Ukrainian State Film Agency competition for project financing," recalls Supin. According to him, the series currently has 50% of the budget secured, and the producers are looking for the other half. Filming is scheduled to begin in the spring of 2023.
"Now the script is almost ready. There is a pilot script and a very detailed treatment. We are open to the expansion of co-production since we can shoot in any Eastern European country where we can recreate the visual setting of the post-Soviet 1990s. And we are also looking for an international distributor," Lukyanenko added.
Toomas Luhats summarized the discussion. "Since the beginning of the war, Ukraine needs our help not only with missiles, tanks, and artillery but also with support for co-production. Creative people in Ukraine also need to work. And if we abandon our joint projects, it means that they will have no work. But in fact, it is not only about support. We wouldn't enter the project if it wasn't in our interest. We are interested in the release of a good series – this is our main goal. And we are sure that this will be the case with A Girl from Tallinn."