Last week, we started researching the state of Ukrainian film distribution, focusing on industry recovery statistics and the Volyn network Premiere as an example. But the overall picture would remain incomplete without understanding how the major market players are doing today. And to fill in as many blanks as possible, we invited Roman Romanchuk, CEO of the Multiplex network, to a conversation. We took the opportunity to ask him not only about how the company has dealt with the Russian invasion and the challenges that management faces almost every day but also about his faith in the future of the industry and where it should look for help.
– Roman, tell us how the full-scale war began for the Multiplex network. What happened on February 24? How did you close and preserve cinemas? Perhaps you were preparing in advance for the invasion of Russia?
– Let's break down your broad question into several components. First of all, yes – we were preparing. Three scenarios differed depending on how large-scale the invasion would be. However, none of them worked to the full because on the morning of February 24, we experienced the most radical possible development of events. At the same time, our action plan partially worked (for example, one of the points was to transfer the key functions and representative office to the western regions of the country). But none of the scenarios were clear and deep enough to foresee a full-scale war. This is a psychological point: until the invasion began, it was difficult to imagine that one day we would wake up in a completely different world. Even one of our scenarios, which turned out to be the closest to reality, we considered purely theoretical.
– Did you have a prepared place where the main office team could move?
– I wouldn't say that the place was prepared. We simply modeled the operation of the company in case of invasion: what functions should be performed, what could be done in the West, and what could be done remotely. Going back to your conservation question, we exported the vast majority of our action plan during the covid period. There were similar tasks: to work remotely, preserve cinemas, and interact with all partners and contractors. Unfortunately and fortunately, at the same time, the processes had already been worked out, and the team was ready. On the morning of February 24, realizing that a full-scale war had begun, the first thing we did was to communicate to all employees that no one was moving anywhere, and cinemas were not opening. At that time, no one understood either the scale of the escalation or the extent to which it would be controlled. Personally, I went to the office, where, besides me, only one top manager worked that day, and we mostly took care of the communication with employees so that they understood what to do. We even exposed internal channels so that anyone in the company (at the time of the invasion there were 929 employees) could contact me about anything from work matters to personal security.
In such conditions, our plan regarding the processes in the shortened team was gradually introduced; it was necessary to transport the founding documents and seals from Kyiv to a safer place. But the specific place was not determined in advance – the plan only stated that it had to be done. In fact, it looked like this: we collected everything valuable, and at the end of the day, leaving the office, I took it with me. In general, we did not have any chaotic and panicky movements, but I wouldn't say that everything was well organized either. We relied on a previously prepared plan, making many important decisions along the way.
– Did everything happen more or less evenly across regions, or was the process more complicated or simpler somewhere?
– If we talk specifically about February 24, the situation was approximately the same everywhere. I repeat, the previous experience preserving cinemas, which we have already had four times in the last year and a half, worked positively here. So the teams understood the assignment and acted quickly. But on February 24, such preservation did not take place yet, because people did not go to work that day. However, all other processes that could have been done online were already established, so there were no particular difficulties with a separate region or a team.
– By the way, how long does it take to preserve a cinema?
– Depends on the degree of preservation. Ideally, if it involves the movement of goods from one cinema to another, it takes two days. When goods need to be moved to another city, it takes three to four days, depending on logistics.
– And how was the decision made to resume the work of cinemas? When did it happen, and what did it depend on?
– Among the large networks, we were the first to resume work, Planeta Kino opened a week and a half later. However, the decision to reopen did not depend on other cinemas' performance. In each case, we made decisions based on specific factors, teams, and locations. The main tasks that appeared on the morning of February 24, I formulated already on the next day, brought them to the team, and we started working. This is, firstly, the maximum retaining of employees' paychecks, and secondly, countermeasures so that the company does not go bankrupt. Staying idle with the credit that started defaulting every day we weren't working seems like the biggest challenge right now. When planning the first openings (two cinemas in Lviv and one in Khmelnytskyi), we first of all assessed safety, then the team presence, and then economic factor. In this case, everything depended on whether the shopping center would agree to significantly reduce the rent – so that the opening would allow us not to be dramatically unprofitable. So if the cinema's performance covered the rent and salary, we would have opened since the salary issue was determined as the main priority.
In general, we still haven't made any decisions regarding the reduction in staff, although we are lacking seven facilities now. On February 24, without waiting for the end of the period, we paid everyone a month's salary; at the beginning of March, we paid half a month in advance. But since mid-March, the balance on the account was already insufficient, and we had to develop differentiated solutions. Conventionally, there were three categories: those who could physically go to work; those with whom we have legally suspended the employment contract, but we pay certain material assistance (this category is the largest), and a small team needed to make key decisions and perform key functions. In fact, the last category is people from the central office, where out of 83 employees today only 19 are not placed on hold. However, their salary is not paid in full: at first, the coefficient was about 20–30% of the salary, later it increased a little, but it is still very far from the pre-war level.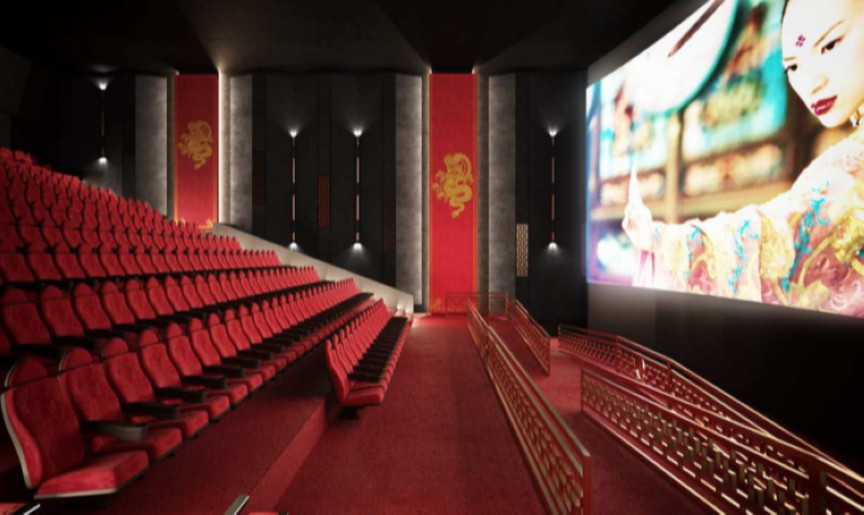 The Multiplex cinema in Lviv became one of the first institutions of the network to resume work during the full-scale war
– Have you already calculated how long the network will be able to work in this mode?
– Frankly speaking, we do not make such long-term calculations because it is impossible. If we look at the last four months separately, the circumstances have been dramatically different each time, and the situation will probably keep changing in the future. But, of course, we assess liquidity, every week and make a fairly deep analysis, a projection for the next period, realizing for ourselves that the situation will not be radically better during the year. This is a conditional horizon, up to which we somehow have to survive. When we analyze the risks of the strategic goal of not going bankrupt, we look at how we can withstand the year. And thanks to this, we endure. However, there are also several criteria here. The first is that the situation will not be worse than today, and the second is that we will continue to be able to negotiate with partners and creditors. Although it's not even about the agreements: it's hard for everyone right now, and the question is whether the partners will be able to endure enough to meet our needs.
– How many Multiplex cinemas and halls are currently operating?
– 17 cinemas (three of them are franchisees) and 54 halls. The total number before the full-scale war was 162 halls and 29 cinemas.
– Seven of the network's cinemas are destroyed, and another four are damaged. Have you spoken to the authorities about a refund or reinstatement? Is there any vision of the mechanism yet: the Ukrainian authorities will take care of this, or will you later file a lawsuit against Russia as an aggressor?
– We talked to the authorities, but there is no concrete vision yet. The one that we have is quite generalized – at this stage, a general plan for the country's recovery is being developed, and it will also probably include cinemas. However, now we do not expect anything radically different and move in parallel. We communicate a lot with international cinema organizations; we are most actively developing cooperation with the National Association of Theatre Owners (NATO). So we work with NATO, but not with that one (smiles). We are discussing making a fund to support the motion picture industry during the war and to restore it afterward. But time will tell how successful it will be, what the results will be, and how much money will be collected in this fund. Currently, we are collecting data about the industry in general, conducting surveys among colleagues to understand what problems each of us faces: both the scale of the destruction of facilities and the volume of the facilities themselves. We process the received data, package it in presentations and databases, and pass it to foreign partners. The International Union of Cinemas UNIC also joined this initiative. If we don't manage to create a separate powerful international fund, we will try to create a program based on an existing international fund. At least now we are moving in this direction.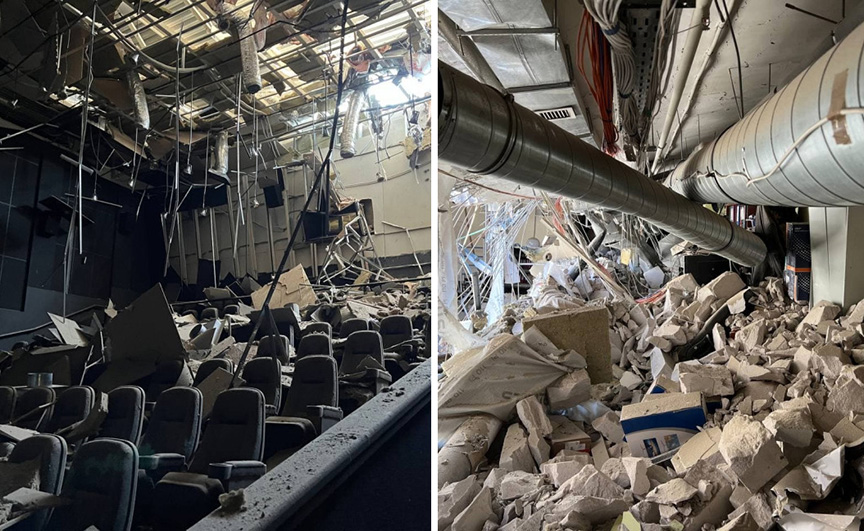 The Multiplex cinema in Zaporizhzhia was damaged to such an extent that, according to Roman, it is easier to rebuild it than to restore it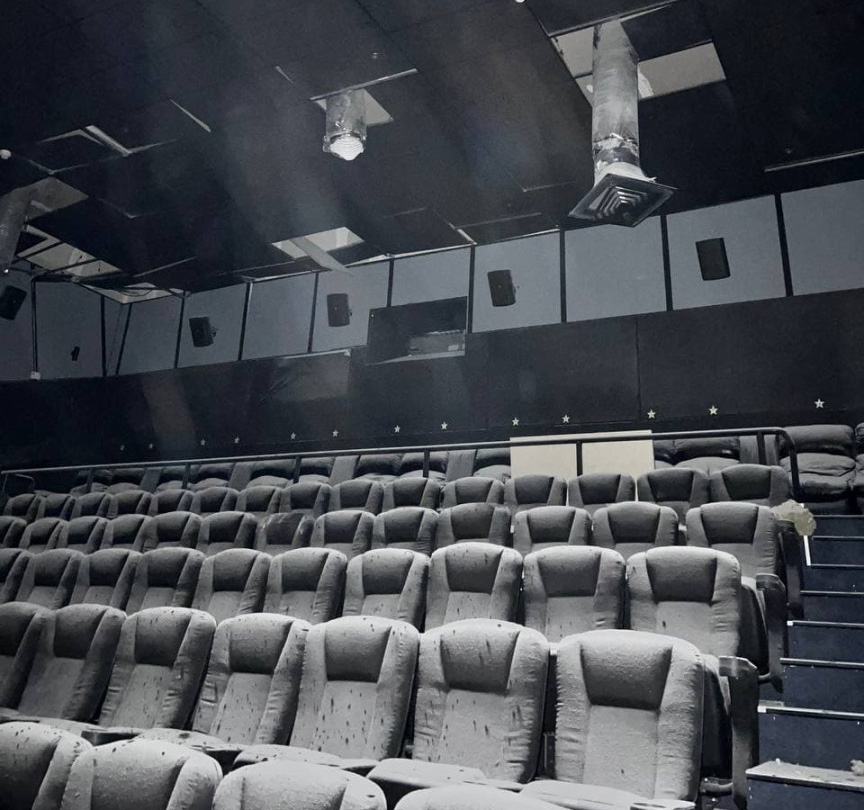 Both cinemas of the network in Kharkiv were also damaged, and their restoration is out of the question because the city continues to be shelled almost every day
– One the objects that were significantly damaged is the cinema in the Retroville shopping center. However, Kyiv today is a relatively safe place, so the institution could probably start to be restored already. Are you planning to do this, and how long will it take to get this cinema up and running?
– Yes, we are planning it. As far as I know, the mall itself is supposed to reopen in August. The cinema is in the part of the building that was less affected, so the damage is not very significant, but the three theaters will definitely not be operational soon. Not sure if the other four will be at full capacity as we are currently inspecting the HVAC system. That is, the physical perimeter of the halls is intact and safe, but communications may be damaged. If all is well with them, four of seven halls will soon be operational.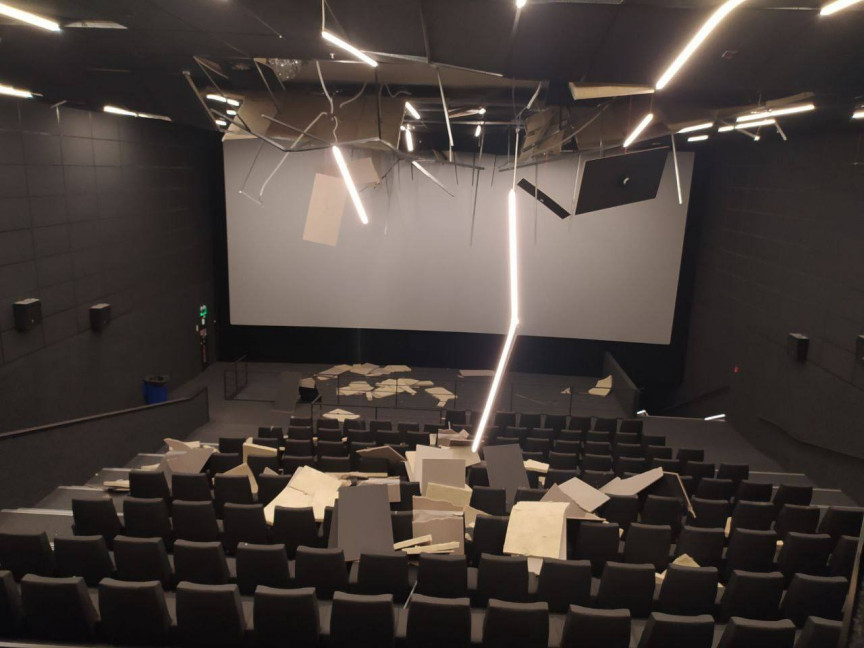 This is what the cinema in the capital's Retroville shopping center, where a Russian missile hit, looks like today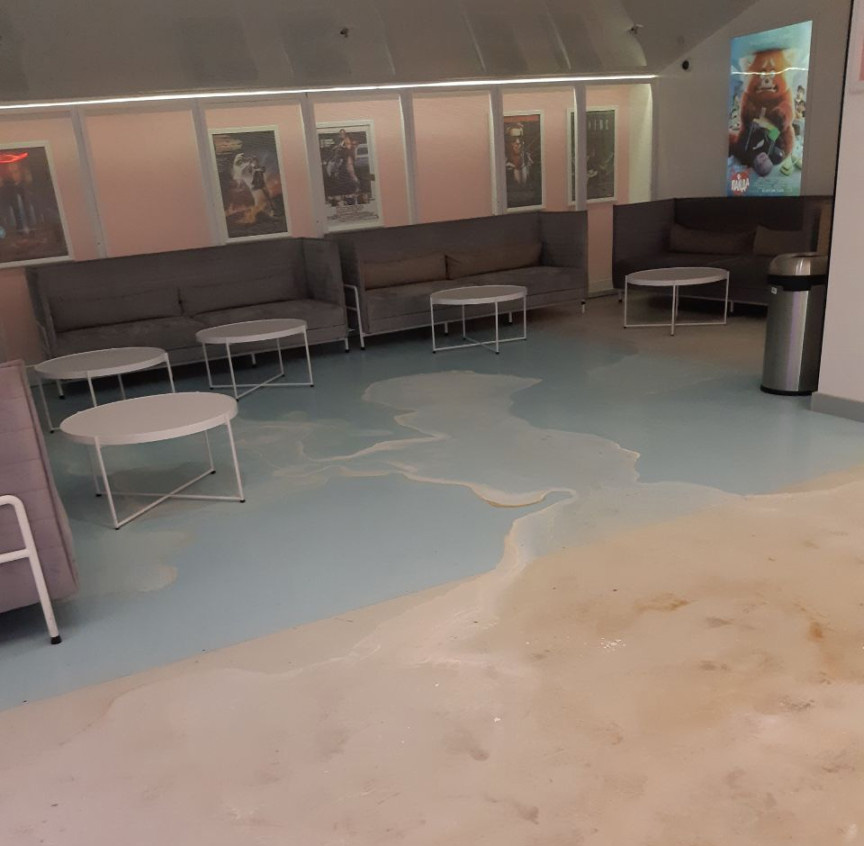 The Lavina shopping center was also affected, but much less. Today, the cinema is already working
– Can we talk about the positive dynamics of attendance in those cinemas that are working?
– In general, there is a positive dynamic. It really depends on how safe people feel in general. When cinemas began to resume work, more factors negatively affected attendance, and people had not yet adapted to the new living conditions. Now we have a different reaction to air alarms. Another factor is awareness: at the end of March, many simply didn't know what was already working and what was not yet, and for those who had recovered, it significantly worsened attendance. In addition, the duration of the curfew has a significant impact. At first, they started at 19:00 or 20:00, and we had to finish the last screening 1.5-2 hours before so that the audience would have time to go home. And, of course, the number of viewers is greatly affected by the availability of content. In March-April, we were already lacking content because there were no international releases at all. We did a lot of work to get back world studios' content. They simply did not understand our realities and said: "How can you open cinemas while you are at war?" But little by little, they understood that not only were we not going to die, but we were planning to rebuild business and economy and generally live as happily as possible. Therefore, we said that we need content as soon as possible, not only from a business point of view but also for a little distraction and energy. It took three or four weeks to convey this, to shake up the bureaucracy, but it was a success.
– So you did not negotiate with the distributors, but directly with the studios?
– Yes. Many distributors (of course, not all, but a significant part) assumed that most cinemas are closed, so releases are not economically feasible. It is better to wait until more cinemas are reopened. But it doesn't work like that: a cinema can't resume its work if there's nothing to show. That is why, in fact, I sought communications directly with the producers because distributors had no proactive position.
– And to what extent did the temporary absence of dubbing affect attendance?
– I wouldn't say it was absent, but yes, the sequel to Doctor Strange and Fantastic Beasts - 3 were released with subtitles only. In their case, it was economically risky to invest in dubbing. It definitely had a negative effect on attendance: both movies are aimed at a family audience, and they, especially children, do not perceive titling very well. In addition, the dubbing market is very well-developed in our country – accordingly, the viewer has certain expectations. Although, in other countries subtitling is quite widespread. For example, in Europe, most animation is dubbed, but other content is subtitled. In our country, the situation is different. That's why, I think, we didn't get almost 40% of the box office due to the lack of Ukrainian dubbing.
– Is there any regional difference in the perception of the original audio with subtitles?
– No, I wouldn't say that. Rather, it varies from cinema to cinema, depending on what percentage of the audience is adult. By the way, we have statistics, according to which in May-June in Kyiv, the number of children among the audience decreased significantly, while in the western regions this indicator almost did not change. Analytics, of course, is not deep, I don't know to what extent it can be extrapolated to the entire market, but within our limits we noticed it.
– How many screenings are held per day on average – are you back to the pre-war level?
– Three or four screenings, depending on how long the film is. We are talking about one hall, and not about cinema in general. Compared to the pre-war period, it is significantly less. Firstly, we don't have morning screenings before 10:00; secondly, we don't have at least one (and in some cities – two) evening screenings. This is due to the curfew, the duration of which varies by country.
– Is attendance generally lower as well compared to the pre-war level?
– Yes, when we talk about cinemas that work, we are talking about a decrease of about 2.5 times. Although, of course, it depends on the content: if it is much-awaited, then the difference is smaller – about 1.5-2 times. In addition, from time to time, some factors further reduce attendance throughout the country – for example, an attack on a shopping center in Kremenchuk. Although the reaction differs by region: in Kryvyi Rih its influence was less than in others.
– It is interesting, considering that Kryvyi Rih is located quite close to the front line.
– Yes, and I associate it with greater adaptability of people.
– Currently, the schedule of your cinemas includes only foreign premieres, but for some time the repertoire consisted of Ukrainian films of the past years. Firstly, was there a demand for them, and secondly, why were these screenings canceled – there are already enough foreign releases?
– Yes, in the first weeks after the reopening, our schedules mostly included reruns, and now the key issue is the appeal of a film to the viewer. While it depends not only on the language and power of the project but also on its genre. Now the latter is of significant importance since psychologically we are more inclined to watch light content. Actually, this was the case even before the full-scale war: the champion in terms of box-office among local content is the Crazy Wedding franchise. Today, it has become even more acute. We as a nation have a heavy burden of tough news every day, and we want to relax at the movies. If we talk about Ukrainian content in a very generalized way, then it is not exactly entertaining content (the conversation took place before the premiere of Crazy Neighbors. New Stories. – MBR). In addition, there are indeed more international premieres today, so there is no need for reruns.
– You said that in the first weeks of the full-scale war, you were in content negotiations with studios around the world. Have you talked to Ukrainian producers? And how do you generally feel about the decision to postpone the national premieres until the end of the war, as happened with Rocky Road to Berlin and Dovbush?
– When we started negotiations with world majors, we realized that they would not be fast – it would take almost six weeks to resolve everything. So, yes, we also held negotiations with Ukrainian producers, but most of them relied on their own understanding of the commercial success of a project. No one directly said that a film would fail if it was released now, but they were mainly guided by this. Personally, I believe that the premieres, especially of these two films, should have been made, if not in April-May, then at least in the summer. Of course, I do not call for saving cinemas at the cost of the commercial component of the projects themselves, but their Ukrainian distribution would not necessarily be a failure. In addition, now it is quite possible to implement a successful theatrical release in other territories, especially in European countries, where there are many Ukrainian refugees. The potential of such a release is higher today than in pre-war times, so it could compensate for the decrease in the local box office, and the overall result could be even higher than before. However, this would require painstaking proactive work, and producers, as you can see, are more comfortable working with familiar methods.
– Are you discussing, or are there any predictions for upcoming premieres?
– We discuss it, but there are no clear answers at the moment, so it is extremely difficult to make predictions. So far, the only positive example is the release of Crazy Neighbors by FILM.UA.
– How much will the current, definitely difficult general situation affect the cost of a ticket, and has this cost changed compared to pre-war times?
– It is difficult to say how it will turn out because there are two levers here: on the one hand, it is a component of PnL – unfortunately, operating and utility costs are changing significantly, the price of bar, for example, and much more. On the other hand, there is a negative dynamic in the purchasing power of citizens, so we simply cannot raise our prices. As for changes compared to pre-war times, in March-May we worked with a discount of almost 50% from the pre-war price of the ticket, and now we are gradually recovering to this level. We do not have prices that would be higher than before the war, but at the moment it is difficult to say how much longer we will be able to maintain them. At least we will definitely try to hold on as long as possible.
– How have the internal rules of the network changed, given the need to guarantee security (for example, interrupting screenings during an air raid and making sure that all viewers go to the shelter)? What happens to the tickets in the event of a raid – are they valid for the next time? If so, for what period?
– Unfortunately, the issue of air raids in all regions is not theoretical – we face it almost every day. Therefore, interrupting screenings and accommodating people in bomb shelters has already been worked out: there are shelters in all shopping centers where we are operating. The mechanism for dealing with tickets has also been developed, but we continue to improve it based on the customers' wishes. Several options are currently available. For example, if the raid lasted less than 20 minutes, the audience can go back and watch the movie. When it takes more, we offer a screening on the same day in another hall, and if it does not suit the viewer, they can choose a screening on another day within a certain time. In extreme cases, we refund the money for the ticket. Although there are cases of negative feedback from viewers, especially in shopping malls, which do not pay attention to air raids very conscientiously: "I have to leave the cinema and go to the shelter, and meanwhile all the stores are open." However, we cannot do otherwise, because this is our standard.
– How important was having a shelter near a cinema to you when deciding to reopen it?
– This was one of the key conditions. Moreover, in some cases, we, together with the shopping center, had to communicate with the local authorities so that they would organize a shelter facility nearby. So, for example, in Lviv and Kyiv, these issues were resolved by the shopping centers, which announced to us a ready-made solution.
– Have your relations with distributors changed in recent months – have you revised previously concluded agreements, or have there been other concessions on their part?
– First of all, there has been much more communication – both with distributors and other partners. We also gained some concessions, for which we are very grateful. Mainly concerning the availability of content and the postponement of debts we had before the war. In some cases, we revise the current terms of the contracts, in others, distributors allow us to postpone payments for past periods. Of course, there were also very difficult negotiations, especially in terms of content and especially in the period that I have already mentioned several times – April-early May. But in general, everyone is trying to find a common language, and now it is extremely important.
– If we miss the company's previous debt, which I understand you manage to restructure, is it possible to cover current expenses?
– At the current level, in the super-shortened mode, we manage to break even every month. But you should understand – this is since the staff in cinemas today is approximately six times less than in pre-war times, the office has been reduced by five times, and salaries in the office have been reduced by more than half. Plus, our rent has been significantly reduced, and in some cases we only pay utilities.
– What is the situation in the film distribution market in general? How much has it fallen against the pre-war period, and are there any predictions for a recovery?
– The number of open cinemas decreased by about half since the beginning of the war. The number of screens fluctuates each week but is around 300-350, and in pre-war times it was around 600-680. Attendance in a single hall, as I have already said, decreased by almost 2.5 times. Therefore, in general, taking this into account, the market has decreased by 4-5 times.
– According to your calculations or perhaps your gut feeling, how long will it take the Ukrainian film distribution industry to recover to the level of January-February 2022?
– Depends on funding. If we have to do it at the expense of our operating profits without external support, then it can last for ten years, even if everything is OK with the economy in the country. In addition, it will be necessary to restore destroyed cinemas, which, depending on the object, may cost $1.5-4 million. This is a lot of money. If there are programs for the restoration of cinemas, and if the country's economy develops rapidly, then the physical reconstruction will be the only issue, and it will be possible to solve within 1.5-2 years.
– Considering that the cinema industry was almost the worst affected during the pandemic, and as soon as it ended, a full-scale war began, are you more optimistic or pessimistic about the recovery of the industry?
– I'm more of a realist. I am not pessimistic that the industry will lose relevance or be reduced. If we remove the war factor, the cinema industry, will develop globally – there is a demand for it, and it will only grow in the future. People are interested in it, and today there is a global trend to improve the quality of free time. On the one hand, we have less and less of this free time, and on the other hand, we strive to spend it with maximum benefit. To put it simply, every year people are less and less ready to spend their free time just in front of the TV, and in this regard, cinemas are one of the places that can satisfy the need for quality leisure. Of course, cinemas also need to transform to meet this trend, but the future of our industry looks quite positive. If we return to reality and consider the war, I cannot make any predictions here. This is a situation of complete uncertainty, so all we can do is be as efficient as possible here and now. We must support the country and each other, going together to victory, which I am absolutely sure of. The question is only in terms.