"Most co-production projects produced during the war are about the war. You must admit that tanks and infantry in a 21st-century European country are a non-standard situation. People are naturally curious about Ukrainians and what is happening in the country. So, we're currently building our co-production efforts around war-themed projects. However, if we want to plan for the future (when we'll move beyond war-related themes), it's crucial to understand why audiences in your co-producer's country would be interested in watching the project," says Victoria Yarmoshchuk, the CEO of FILM.UA Group.
Yarmoshchuk, as well as the head of the content management department at 1+1 Media, Ivan Bukreev, the head of the co-production department at Starlight Media, Varvara Boiko-Pavlyk, and the general producer of Pronto Film, Maxim Asadchiy, featured at one of the Kyiv Media Week 2023 panel discussions titled '"The Path to Synergy between Ukraine and Europe: Successful Cases, the Development of Joint Content Production and Distribution." The key points of this conversation, moderated by the director of KMW and CEO of Media Resources Management, Kateryna Udut, can be found in our material.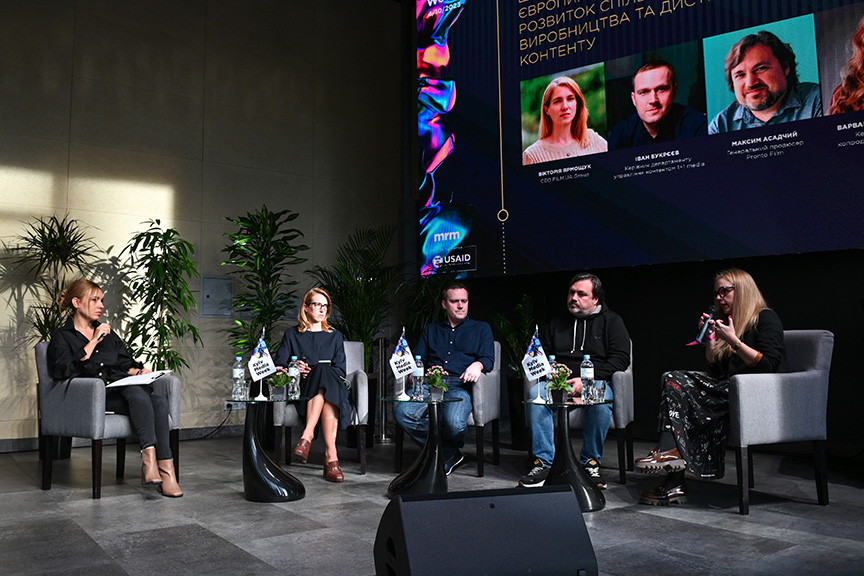 The moderator began with a question about how the speakers' strategies and approaches have changed over the past year and a half since the start of the full-scale war. The first to respond was Victoria Yarmoshchuk, who noted, first and foremost, that for FILM.UA Group, a large diversified group of companies involved in all aspects of content development, production, and distribution, international collaboration has always been a priority: "When the full-scale war began, and for a while, we couldn't produce. But we continued to provide our services, such as VFX, post-production, etc., to the international market." Victoria emphasized that it was very valuable and even somewhat unexpected for the company that international partners not only did not turn away during this challenging period but were also placing more orders.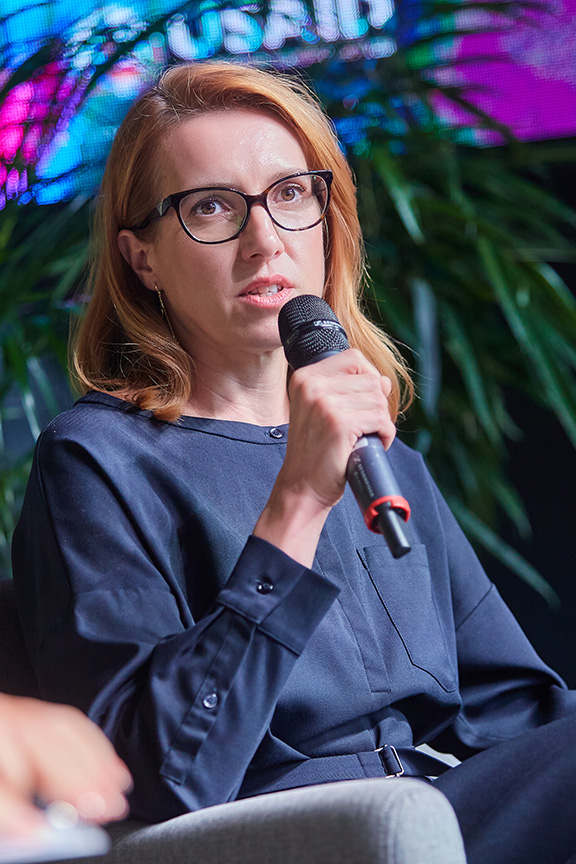 "They believed that we would fulfill our commitments, and they were not mistaken," Yarmoshchuk said. The CEO of FILM.UA Group explained that since the beginning of the full-scale war, none of the group's divisions had been closed, and some directions had even significantly expanded. This includes broadcasting, which gained new opportunities due to the ban on Russian television channels in many European countries. Yarmoshchuk also mentioned an unprecedented industrial alliance – when, from the beginning of the full-scale war, FILM.UA Group, Starlight Media, 1+1 Media, and at the time, Media Group Ukraine – operated as a single team at numerous international events, proving to the world that the Ukrainian industry exists and, despite everything, it is willing and able to work.
"Production is evolving," emphasized Victoria. "The war has given us a chance that we didn't have before. I would never wish to have this chance at such a cost, but... Over these one and a half years, the whole world has truly understood what Ukraine is. And also, what Ukrainian content is, and how high our level of production and creativity is. So, what do we need to do? Right now, we have all the mechanisms and tools to become full-fledged partners with the world."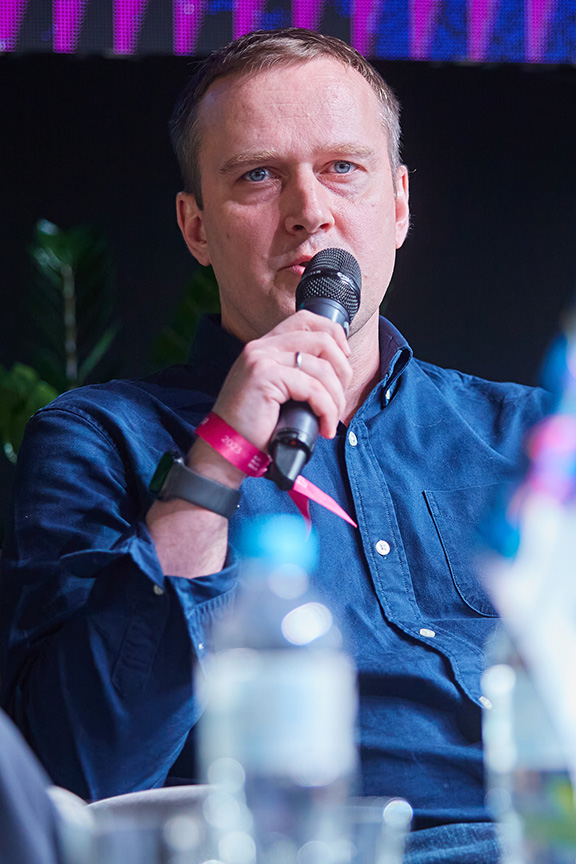 Next, Ivan Bukreev took the floor, he first recalled that during this reporting period, he had to go through an extraordinary career experience: "Over the last one and a half years, I closed down two channels – the ones I launched 12 years ago – and returned to '1+1'" (from 2007, Ivan Bukreev was heading the department for strategic procurement of program format rights and online rights for the '1+1' TV channel. Then, from 2012 to 2022, he led the Department for the Development of New TV Channels at Media Group Ukraine and concurrently served as the director of 'NLO TV' and 'Indigo TV.' After the closure of Media Group Ukraine this year in May, he took over the newly formed Content Management Department at 1+1 Media). – MBR).
When discussing the reconsideration of the media group's approaches to content production and the search for monetization sources, Ivan noted that if in the past, channels relied more on traditional mechanisms – sponsorship, advertising, channel distribution – now the search for grants and partnerships is becoming increasingly relevant, both internationally and within the country.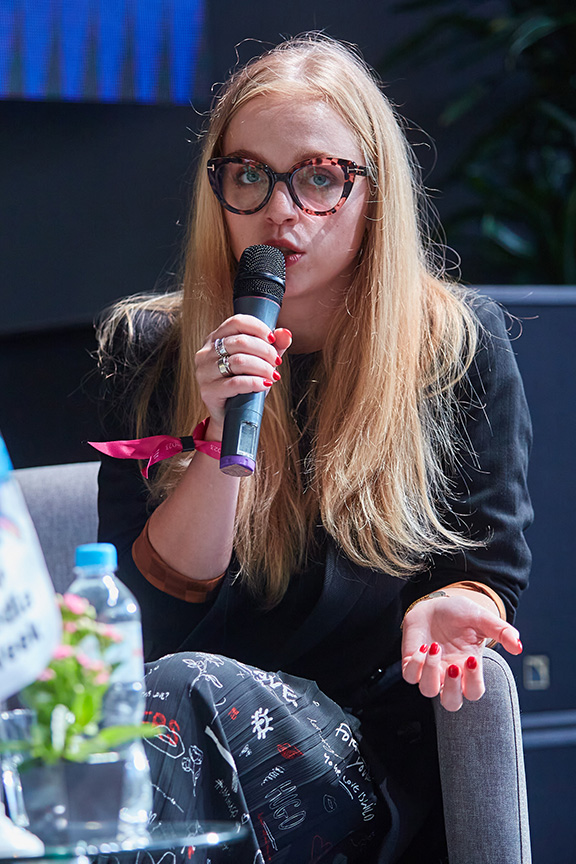 Next, Varvara Boiko-Pavlyk spoke and explained that although Starlight Media had significant experience in international sales and co-production at the start of the full-scale invasion, "the vector, of course, had to be adjusted because the market conditions had changed, the level and ability to attract investments had become more complicated, production processes had significantly complicated, and part of the highly qualified personnel was lost."
Varvara pointed out another issue: "When we looked at the ideas that were developed before the full-scale war, we realized that some of them had to be postponed, while others needed updating. And one more aspect: in what timeframe to set the setting? In other words, ignoring the war is, of course, impossible. Talking about the future? It's challenging – it's uncertain, unknown. The past? It gradually becomes less and less relevant. So, it's important to view all ideas through this lens."
Next, Maxim Asadchiy talked about the changes in film production. He addressed the lack of funding from the Ukrainian State Film Agency as a key factor currently hindering co-production in the film industry. "Over the past year and a half, we traveled and talked to partners, but the conversations ended with the realization that co-production couldn't move forward until all project parties could secure funding. Yes, it's now possible to find funding for scriptwriting, and development, and we have worked on several projects this way. But when it comes to production... Now, there is hope that funding will open up next year. If it does, then Ukrainian film producers can start practical negotiations with their partners and begin thinking about actual production."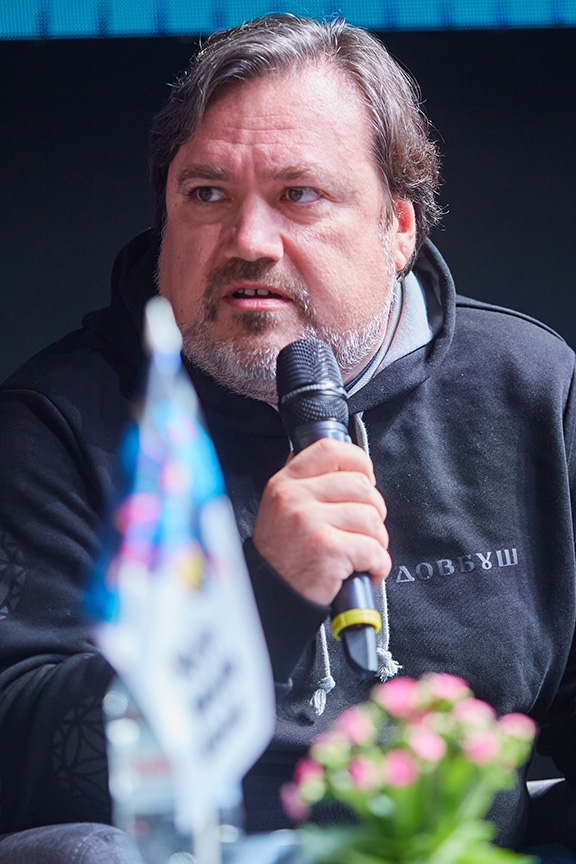 Maxim also noted that the service offerings provided to foreign partners by Pronto Film Studio in recent times were primarily focused on documentary projects, as "nobody will go to a country at war, and no insurance company will cover film production under such conditions." However, there are exceptions. As Asadchiy explained, he is currently budgeting for a French company that wants to shoot a feature film in Ukraine. "It's a road movie through Europe, and part of the story takes place in Ukraine, so they want to shoot it here. They've already been here, scouted locations. Yes, they were initially concerned, but they got over it. They visited Western Ukraine: Lviv, and Drogobych. Overall, they returned home very satisfied and said, 'Let's move forward, let's do it, let's work!'" shared the producer.
The next question was about changing production and marketing strategies in the context of co-production priorities, as well as which countries and territories the participants of the discussion consider to be the most important for co-production.
Varvara Boyko-Pavlyk emphasized that one should start from the idea that different ideas may be interesting to different territories, allowing one to "seek partners worldwide without limitations." The head of the co-production department at Starlight Media mentioned that the company currently has active partners in Eastern and Western European countries, the Baltic countries, Scandinavia, and the Balkans.
"In general, co-production is about the exchange of experiences, trends, approaches, and ideas. When we talk about production strategies, it's more about forming high-quality partnerships. And partnership, both external and internal, is one of the core values of our company," emphasized Varvara.
As an example of a successful international partnership during the full-scale war, Boiko-Pavlyk mentioned the project In Her Car – a ten-episode drama series about Ukrainian therapist Lydia (played by Anastasia Karpenko), who becomes a driver helping people evacuate as the invasion begins. Each trip turns into a sort of therapy session in the car. This project illustrates Varvara's point that "foreign viewers and partners are willing to watch projects about Ukraine and Ukrainians, but not just through the lens of news headlines; rather, they want to learn about our feelings, our experiences, our impressions."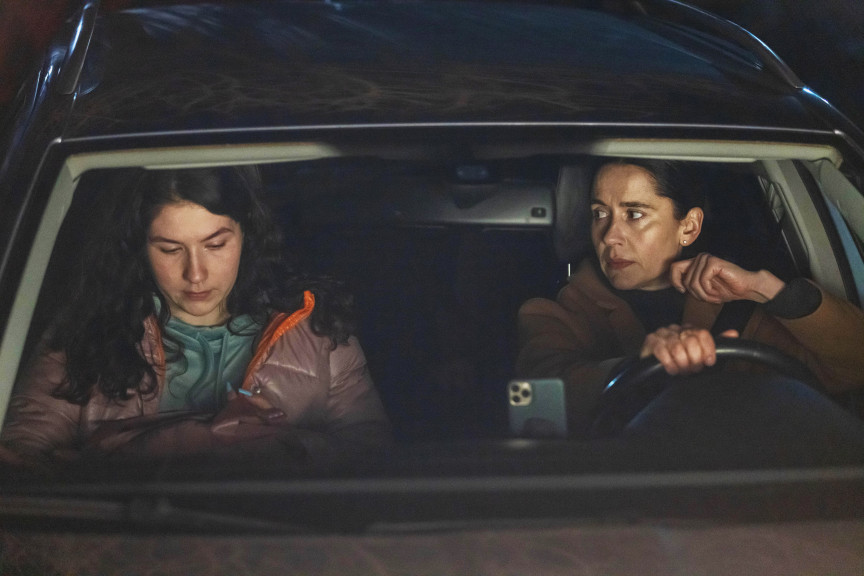 A shot from the series In Her Car
The first foreign partner to join the project was the French company Gaumont. Currently, the project involves six European broadcasters, with negotiations underway for other territories. The German company Beta Film is the distribution partner. "This is the first Ukrainian-European co-production drama series," emphasized Varvara. "We are working with highly qualified European partners, which enables us to gain insights into their work standards, which often differ from what we are accustomed to. This experience is extremely valuable for us."
As a showcase marketing case, Boiko-Pavlyk presented the trailer for the documentary project about Ukrainian war photographers titled Pictures From War, which Starlight Doc is currently co-producing with American partners from Happy Accidents. This trailer, produced in-house by the marketing and creative agency Starlight Creative, was the winner of the Promax Awards Europe this year in the Documentary Spot category. Now, the authority of this award is helping the project seek new international partnerships (you can watch the trailer on the Promax website via this link).
Victoria Yarmoshchuk continued the topic, emphasizing that for successful partnerships, it's essential to understand what matters to partners and, equally important, for partners to be aware of you and your capabilities. The importance of communication with the international market was highlighted by Victoria through specific cases: "Last year, FILM.UA collaborated on a project with a Polish company: a full-length film starring Polish actors. The Polish team came to Ukraine, even as far as Kharkiv. Now, as they share their experience with colleagues, it gradually instills confidence in them."
Victoria Yarmoshchuk also raised the issue of budgets: "Before the full-scale war, we all aimed for co-production projects with significant budgets. And we had reasons to do so, as we could bring a substantial portion from Ukrainian territory. Now, firstly, this has changed, and secondly, the market has changed as well." However, the CEO of FILM.UA emphasized that amid the global reduction in content production expenses, Eastern Europe's market, unlike most other territories, is still experiencing some growth. "But Eastern European budgets differ from Western budgets," Yarmoshchuk pointed out. "As part of Eastern Europe, we have to offer projects with corresponding demands: not half a million dollars per episode for series, not 300 thousand, but less."
As a measured approach to budgets, the CEO of FILM.UA cited the example of the series Those Who Stayed, which was produced this year by FILM.UA in co-production with Red Arrow Studios International (Germany) and three public broadcasters from Norway (NRK), Sweden (SVT), and Finland (YLE). On November 1st, the global premiere of this project about Kyiv residents who stayed in the capital during February-March 2022 will take place on Netflix. This is the first time that the global premiere of a Ukrainian project will take place on Netflix simultaneously in 18 European countries.
"We produced this series at a very modest for the international market budget. Our international partners are impressed that we can achieve such quality in Ukraine with such limited funds," said Yarmoshchuk.
Continuing the discussion on finances, Victoria pointed out that, like any partnership, co-production must be beneficial for all parties involved. "One of the strategic tasks for our market is monetizing Eastern European projects on the territory of Ukraine," she explained. She provided the example of the Polish film Filip, which FILM.UA Distribution took on for distribution. "It initially had a theatrical release, and now we've sold it to MEGOGO, and our Polish partner has already received some money from us. This is a foundation for further work," Victoria shared.
Ivan Bukreev agreed with his colleagues that the project's geography primarily depends on the project itself. However, when it comes to scripted series, it seems more logical to collaborate with neighboring countries, although it's not as simple as it sounds. Ivan shared: "I remember how recently, colleagues from Eastern Europe in Budapest were joking that it's easier for them to partner with Western Europe than with their neighbors. But no one could clearly say why. Someone said that we are too close to each other...". Victoria Yarmoshchuk continued the thought: "Close and distant at the same time." Bukreev agreed with this, and the moderator, Kateryna Udut, noted that the topic of an Eastern European content alliance, similar to the Scandinavian Nordic12, hasn't been discussed for a long time. Yarmoshchuk summed it up: "Let's get involved."
Next, the moderator brought up the issue of thematic balance in co-production projects: how to make them interesting to multiple audiences simultaneously? And how does this aspect currently affect development?
"It greatly depends on the genre," responded Ivan Bukreev. "If we're talking about documentaries, the story may remain unchanged and be equally interesting to our audience as well as to the European or global ones. But when it comes to scripted projects, of course, we need to consider what appeals to a potential partner. For co-productions, it should not just be a foreign character but the story itself. Regarding genres, it could be a comedy, but it's more challenging because humor doesn't always travel well. Dramas are easier. So, during the development phase, we already categorize stories into those that potentially can be suitable for partnership and those designed solely for local market purposes."
In this context, Yarmoshchuk returned to the mentioned challenges of working with neighboring countries: "Until recently, we thought, 'We're going to make projects with Poland! We have a lot in common, including a common enemy. But we have our own lives, and they have theirs. So if you want to make a project that's not about war, you need to understand who and why will watch it. Therefore, in practice, it often turns out that you differentiate between projects for the local and international markets. And when it comes to an international project, you go through the process of creating it together with the partner starting from the scriptwriting stage."
In turn, Varvara Boiko-Pavlyk talked about the transition of Starlight Media's business model from being broadcast-centric to content-centric: "From the beginning of working on a project, we consider potential partnership, distribution, and monetization models. Evaluating potential distribution is an important part when launching a project and securing funding. Currently, as our creators travel the world, they continuously gain diverse experiences and implement them into our products. We see that ideas that are relevant to our audience also resonate worldwide."
When discussing the interest in local Ukrainian content worldwide, one couldn't overlook the film distribution cases from this year, particularly the movies Dovbush and Mavka: The Forest Song. The producer of Dovbush, Maxim Asadchiy, mentioned that the film is currently in theaters in the Czech Republic, Slovakia, and Lithuania.
There are also special screenings taking place in Canada, the USA, and Israel. Additionally, the film is available in cinemas in Germany and Austria, primarily targeting the Ukrainian audience, but interestingly, 20% of the viewers are not Ukrainians. As Asadchiy admitted, "It's not very easy to enter the international market with my film, and I wouldn't say that we have huge success beyond Ukraine. But we continue to work."
Next, Victoria Yarmoshchuk talked about Mavka, calling it a "game-changing project" because "the international success of this film is hard to overestimate – it's so important for the entire Ukrainian market as a whole."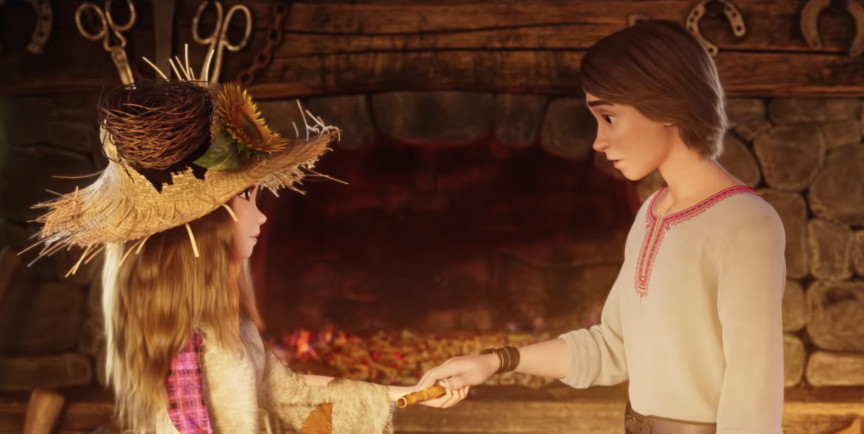 "In a few more months, the film will finish its international release. I won't reveal the overall box office figures just yet, but it's already an impressive sum in the millions," the CEO of FILM.UA shared. "For many of our international distributors, Mavka has rekindled their belief in independent animation and has significantly boosted the ratings and trust in Ukrainian cinema. Now, when we offer other Ukrainian films for distribution, they trust us more because they know we won't propose something that won't make money. We are taking a commercial path and proving that Ukrainian cinema is a direct opportunity to earn."
Yarmoshchuk emphasized that Mavka is a unique case, an animation with a very broad audience. However, the project paves the way for others with smaller audiences. "Currently, there are many Ukrainians abroad, which is a significant audience and a unique opportunity," Victoria stressed. "In many territories, we persuaded distributors to show Mavka not only in the local language but also in Ukrainian. In some countries, such as Germany and Poland, the box office for the Ukrainian version earned substantial sums. And since the distributors saw the money, they are now more eager to take on Ukrainian films."
The CEO of FILM.UA also mentioned that the company currently provides marketing support for promoting Ukrainian films abroad. She stated, "After Mavka, three more Ukrainian films traveled to Germany, and they ordered marketing support services from us, aimed at Ukrainian communities. So, I repeat, we now have many more opportunities to promote Ukrainian content abroad than we did before."
At the end of the discussion, the moderator asked the participants to imagine what co-production project they would most like to realize next year, assuming there are no budget constraints, etc. However, their flight of imagination turned into concrete ambitious plans.
Varvara Boiko-Pavlyk mentioned a new co-production format project that "Novy Channel" is producing in the Netherlands in partnership with the Dutch team and a global player in the format market, Talpa Studios. Varvara did not mention the project's name, but it likely refers to the show The Floor, which Ukrainian viewers will see in the spring of 2024. This is a quiz format where 100 players compete in quiz duels on a giant LED floor divided into 100 squares. The participants in the Ukrainian version of The Floor are Ukrainians who fled the war and now mostly live in the Netherlands.
Starlight Media is also planning to implement an action drama project called Undercover Gladiator in co-production with a Croatian partner, Drugi Plan, and several documentary projects that will be announced shortly.
Maxim Asadchiy mentioned that he currently has several projects in development, and he would primarily like to realize those. These projects include a film about Volodymyr Ivasyuk, a film about the war, and an old project about Holodomor. All of these projects are Ukrainian, although "Ivasyuk" may potentially involve a partnership with the Poles, as stated by the producer.
Ivan Bukreev noted that he would like to work on many new projects, but first and foremost, he wants to continue the cooperation with the Polish public media holding TVP on the project The Voice, a show filmed in Warsaw and broadcast on "1+1 Ukraine" and also on Polish TV. Additionally, he plans to extend collaboration with FILM.UA in the production of TV series.
Victoria Yarmoshchuk admitted that next year she would really like to implement a co-production project with Poland because "it is strategically important to bring our content markets closer together. When this happens, it will become a partnership between two strong markets and will indeed provide a boost for Eastern European alliances, which we are talking about." She also mentioned another strategic partner for Ukraine – Canada. "This is one of the few countries outside Europe where we really have great potential for co-production: because of the world's largest Ukrainian diaspora, due to political and cultural connections. So we are working in that direction, and we already have several projects in development," summarized Yarmoshchuk.